Sports Hack Day 2013 (Seattle), A Book Report
Yes, I'm a few weeks behind in writing about the experience.  But come on, we run a small company and have a 2 year old.
Every night it's been a toss up between writing a blog entry and cleaning the house, doing other work related items or getting some much needed sleep early enough so that if the little one has a difficult night and there's screaming or perhaps diaper pieces all over the crib pulled out of said diaper by a tiny adept finger that has to cleaned up (which includes what was in the diaper), there's still enough time to get a few nods in so that our brains can semi-function during the next day at work.
Excuses, excuses… and that's only a small part of mine but I'll spare you the rest.
So a few months ago, Jon Rooney (Splunk>Dev) asked us if we'd like to help out with a sports themed hackathon that he and Carter Rabasa (Twillio) were putting together for Superbowl Weekend.  We were asked to create a logo, help out with the color palate for the branding and then send some UX/UI experts to the event to mentor the teams.  Then we heard that Brian Goldfarb (Google) was going to be involved as a sponsor.
When Jon, Carter and Brian are involved with something, you know it's going to be a nerdy good time so we jumped on it.
This is what resulted:
Carter got some kickass sponsors including Google, ESPN, Adobe, and Amazon Web Services
David (Lead Technologist), Stephanie (Lead Designer), Jesse H. (Visual Lead) and Amber F. (Designer), Matt (Executive Director/Co-Founder) all went down on Saturday to help with mentoring of UX and UI for apps.  They mingled from team to team and also had a Lucy from Peanut's style "UX Advice" table.
Great judges including Charlie Kindel, Rebecca Lovell, John Musser, Peter Chee and Stuart McKee
King5 news story (try to spot Matt): http://www.king5.com/news/local/Seattle-sports-geeks-Super-Bowl-hackathon-189397661.html
THE BEST HACKATHON SCHWAG EVAR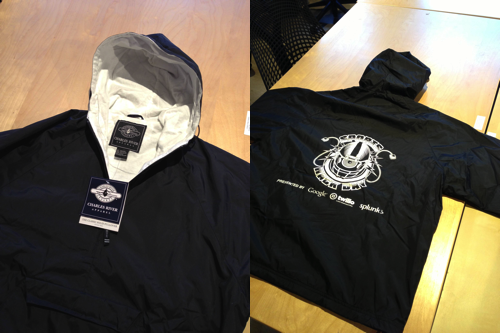 Update on Sports Hack Day: It's gone international.  Stay tuned.
Author: vicky